More and more industry events are held every year: exhibitions, forums and conferences. Entrepreneurs register as guests, buy tickets, obviously, because they want to benefit from such events for business. We have prepared for you 7 rules of effective participation in events.
Answer the question "Why?"
First, choose the right event to participate. Plan your "outings" in advance, make a calendar of upcoming exhibitions. The audience of the event should match your goals. Clearly determine for yourself why you want to participate in a particular event.
What goal do you want to achieve? They can be both specific goals: to get acquainted with the speaker Fedor Ivanov, or the company at the booth number 264, and general: to learn about trends in the industry, to get new contacts.
Preparation: what should be done before the event?
The event will be much more effective for you if you prepare for it in advance. Analyse the programme, highlight key points, arm yourself with facts and figures, and ask for details about the products of the companies participating in the exhibition.
Look for your key people online (e.g. Facebook), what's going on with them? What are they into? Remember their faces to identify them in the crowd.
Remember to check if you have business cards, are there enough of them? Make sure they're ready in advance. Bring handouts that can clearly demonstrate your services.
Come on time.
If you are participating in an event, participate fully: make the most of this time. The event will be over soon and you may not get the chance to talk to the profile community in person soon.
Do not be late or come to the last hour of the conference for a buffet. You can argue that the person you are interested in relax and get free only at the end of the event: then you will take it warm!
And if he asks for your opinion on a particular performance? You can, of course, joke, or shine with general erudition, or even honestly admit: "I am here only for you, But remember that the very informational reason for the meeting is a conference, and her speeches are an extra opportunity to start a conversation.
Hide your phone and chat!
Your neighbour asked an interesting question to the speaker? Exchange business cards! How often do we have to watch how visitors to profile forums hold an event by stumbling into a phone or laptop. After all, there are working letters, calls, messages in messengers, the dollar rate has changed. You can't cancel your work because of some conference.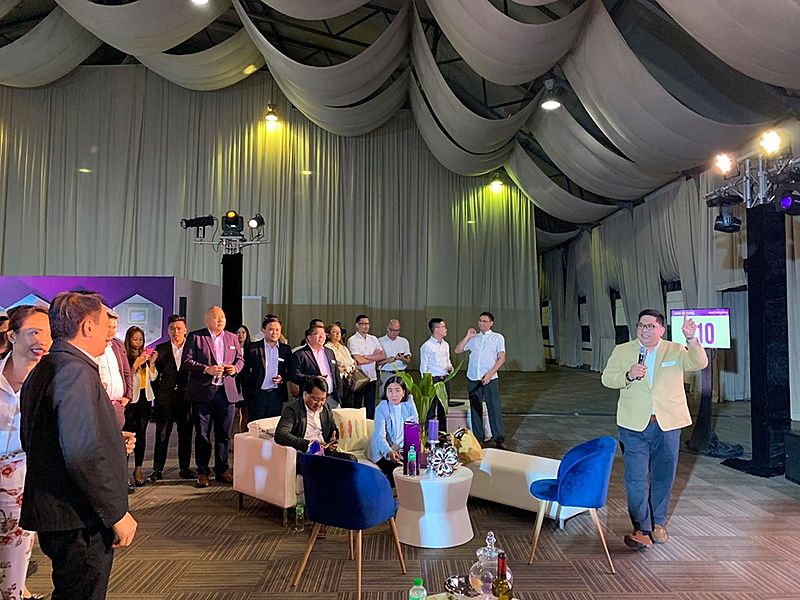 If this is true, and you are very busy with work processes, it is better not to go to this event at all, and send your employee, who will hide their gadgets for the duration of the event. And you can watch the online broadcast. Remember: live events are designed to communicate.
If you understand that the conference part is not very interesting to you and you can not communicate in the room, then leave the audience. Communicate without wasting time.
Ask questions and be a good listener.
People like to be genuinely interested and asked questions. Ask what tasks your interlocutor wants to solve, why. What features does your opponent's service or product have?
What does he want to achieve, how to develop? The more you find out about your potential partner, the easier it will be to work with him or her further, to offer a concrete solution, or to find points of intersection for cooperation.
Don't look around while you're talking to someone. Has it happened to you that during the conversation your visa suddenly sees a "big shot" in the crowd, leaves you and rushes to greet a "more promising" acquaintance? Never do so, first logically finish the conversation, and only then go in search of another interlocutor.
Show yourself to be a professional and don't "blend in".
This option covers sales in general: look at your service or product. Be competent to answer any questions you may have. You've probably come across specialists who, instead of answering more or less specific questions.
Even if you are asked a specific, technical question, the answer to which only your IT specialist knows for sure, but not you, make sure that the question is not left unanswered. Share the employee's contacts, or record a difficult topic for you and disclose it the next time you contact your conversation partner. This is a great excuse to talk again! Do not blend in.
If you want to meet the conference speaker, ask him something. After the speaker speaks, he hears from all sides: "You are a real professional!", "Very interesting performance!" Do not act like this.
Say differently: "I liked your performance, don't you think that the problem is really much deeper in this direction? What do you think?" Ask for specific advice only if you really have something to ask and something to answer. Do not attack, but enter the discussion and show yourself to be a professional.
Keep communicating.
Don't expect your new acquaintances to be the first to get in touch. Do not hesitate to initiate the continuation of communication, it is better to find an excuse for another conversation during the conversation.
Remind yourself on facebook, linkedin, or by email. But do not be too intrusive, do not try to "steal" something here and now (if there was no agreement), be pleasant and useful, who knows what prospects for further cooperation will open to you?