Why does an IT entrepreneur need to go to profile events and how to get the most out of them?
No entrepreneur can know the market 100%. If you do not follow what is happening in the industry, you can leave the race on the first corner. To stay up to date and maintain a circle of acquaintances, it is worth attending the profile conferences. There are hundreds of events targeting the startup community and IT business. Here are five tips to help you set the right goals and prepare for a business event.
Think globally, plan personally.
Profile event gives a "top look". Thus, the last WebSummit was dedicated to modern technologies in terms of ethics. Brad Parskiele, head of Donald Trump's digital campaign, told how the US president's team used the internet to promote the candidate.
Kernel founder Brian Johnson discussed how to speed up brain development so that high pace of life does not provoke depression and addiction. Not every entrepreneur thinks about such things on their own, they just don't have enough time for it. However, in ten years almost every business will face such questions.
A conference is not only an intensive lecture, but also an opportunity to get acquainted with those who have been interesting to you for a long time. It is better to schedule meetings in advance, through the official Event application (if available). Study carefully the list of speakers and guests, choose the most useful ones specifically for your business and agree to communicate in person.
Choose relevant events
A business task can have several right solutions. The question is how to choose the most elegant, economical, efficient. Are you sure you have considered all the options? Profile event is an opportunity to listen to your colleagues and learn their experience: what technologies, HR-solutions, ways to organize business processes they use – and with what results.
Here you should concentrate on specialized events. Thus, Point Nine Capital arranges Marketplace Meet and SaaS Meetup conferences, the topic is clear from the title. They also organize CTO Meetup – events that are interesting for technical directors.
Learn to pitch.
Networking for a startup foundation or business manager should become a habit. If you regularly visit specialized events and build up your contact base, you won't have trouble finding specialists, consultants, mentors and even investors.
Investors are not met on the street, you need someone to represent the foundation or forward the letter. The more people you know in the community, the better the chances are that one of them will know the right investor. And at some events, you can even get to know an angel or foundation member directly.
Networking events come in many different formats. For example, Capital On Stage is a quiet and almost "family" series of meetings, where funders and investors meet. But PirateSummit in Cologne is more like a crazy festival. You can find investors there too, but they will chew pizza during the conversation.
"The main thing is to behave well with everyone. Say hello, introduce yourself and try to genuinely interest the person you are talking to. "Focus on building a relationship. Human relationships, not just "transactional" ones. It really hurts me when someone starts pitching right from the start.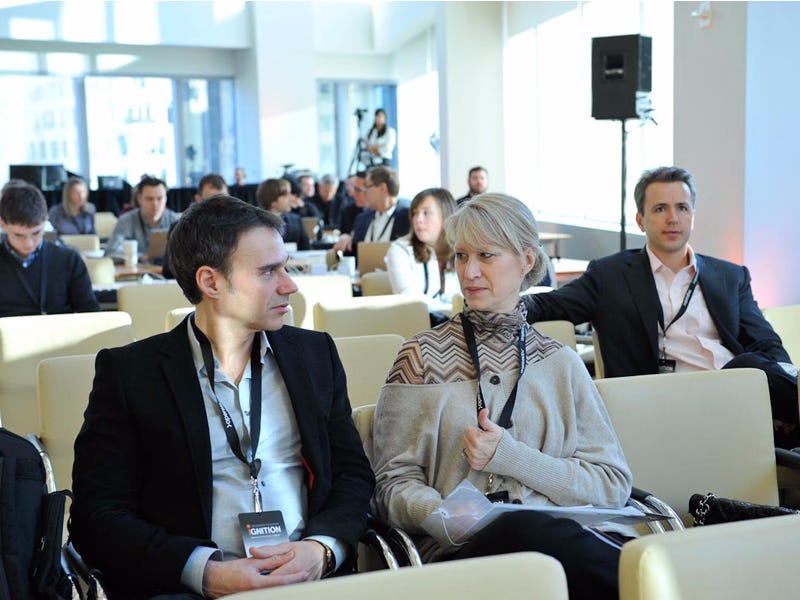 Keep the ecosystem in mind
Startups and successful businesses are not created in a vacuum, they need an appropriate environment. They need both a common startup and a community of individual specialists: developers, marketing specialists, HR, designers. This helps to set up business processes, hype the right specialists and train employees.
VP of Marketing MailTime Cory Breyer writes in the blog of Startup Gring that the conference is an opportunity to meet simultaneously consumers, competitors, evangelists and influencers. It's a good company to build an ecosystem.
"Chances to meet investors, partners, people in the team are greatly increased with a specific goal setting. There are many stories of success and failure, and by asking about the experience of your colleagues in the workshop, you can properly direct your efforts and optimize your travel budget," says Inna Stelmakh, co-founder of UTEW community.
Feel free to make yourself known
Finally, any profile event is important as a PR component. Public activities will help popularize the product, attract investments, build an HR brand. Both own initiatives and participation in other people's events are good for this purpose. But it is important to think over everything in advance, make sure that such activities fit into the overall PR-strategy.
"I have identified several triggers for myself, which I assess the benefits of attending business conferences. The first is an opportunity to communicate personally with other participants and like-minded people. Before attending a conference I necessarily make up a short list of companies whose representatives I am interested in in terms of obtaining new knowledge and acquaintances.
The second trigger is an educational factor. You should never overestimate your knowledge and experience. Even the simplest speeches will help to look at the problems from a different point of view. The third is the atmosphere of the event.
Profile events are a great way to spend time usefully, show yourself and meet colleagues, make new acquaintances and, perhaps, get some insight and suggestions that will move the business forward.